The electric heaters of the 4600 WR series are our standard heaters for almost any application if water or emulsion is the fluid to be heated. The internal design with exchangeable heating elements provides the perfect combination of a large heating surface in minimized space. Most components are custom made at ELWA, providing unrivalised flexibility in design.
Operating voltage, specific surface load, material of vessel and heating elements, position and dimension of connecting flanges… there is almost no limitation to adapt the design to perfectly fulfill the requirements of our customers applications.
Control cabinets with electronic controller and stageless power regulation are available as options.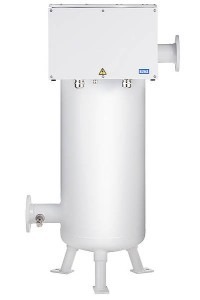 Features
medium
water, emulsion
pump
No
control
No
pressure (max)
10 bar
power (max)
1000 kW
temp (max)
110 °C