We all want to leave the next generations a world worth living in. Therefore, we must decarbonize immediately and decisively to mitigate climate change. If we are forced to use fossil fuels in certain applications, we must do so efficiently. And if we already have renewable energy sources on the grid, we must avoid curtailments.
ELWA Power-To-Heat systems have been developed to make a valuable contribution to decarbonization as a highly efficient technology in the field of sector coupling.
ELWA Power-To-Heat systems can be perfectly combined with heat pumps, combined heat and power plants, battery systems and large thermal storage units. We will be happy to advise you on how the various technologies can be perfectly combined.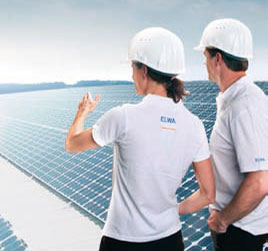 ELWA P2H Advantages
Safety concept for 24 / 7 fully automated operation

Low maintenance & individually replaceable heating elements

Preventive maintenance & remote maintenance

Modular concept for very high system power

Powerful control system for extremely fast response times

Suitable for primary and secondary control power (PRL & SRL)

Control of additional system components possible
P2H MLB (modular load bank)
Modular system consisting of three units with a total capacity of 4.7 MW. This plant is
integrated into a concept with a battery system and a large thermal storage. The
municipality of Fuchstal (Germany) operates its own wind farm and uses this system to
store surplus electricity in the battery bank or, via the ELWA P2H system, in the thermal
storage tank, from which the local district heating network can be served. Thus,
shutdowns of the wind power plants can be avoided.
P2H MLB (modular load bank)
ELWA P2H with 22 MW system power as precise counterload for gas turbines. The
system can represent any load profiles for the turbine test benches and provide heat for
the building heating of the property. Variable voltages and frequencies can be handled.
Performance data
The following table provides standard performance data. Of course we are not limited to these sizes and manufacture according to our customers requests.
P2H compact
24 kW
48 kW
P2H medium
144 kW
216 kW
288 kW
360 kW
432 kW
576 kW
792 kW
1008 kW
1680 kW .
P2H MLB
400 VAC
1008 kW
>>>
690 VAC
1680 kW
>>>